The Society 
The Maria Sibylla Merian Society is an international group open to anyone interested in Merian studies in the broadest sense, including but not exclusive to artists, historians, and scientists. The Society was founded in May of 2014 following a stimulating interdisciplinary symposium on Merian at the Artis Library in Amsterdam, when an initial board was formed and plans for the future were initiated.
The Society will educate the public about Maria Sibylla Merian and encourage investigations related to her life and work. The Society recognizes that Merian lived and worked in a time when the art, science and commerce were inextricably linked, and will strive to support similar interactions in sponsored endeavors.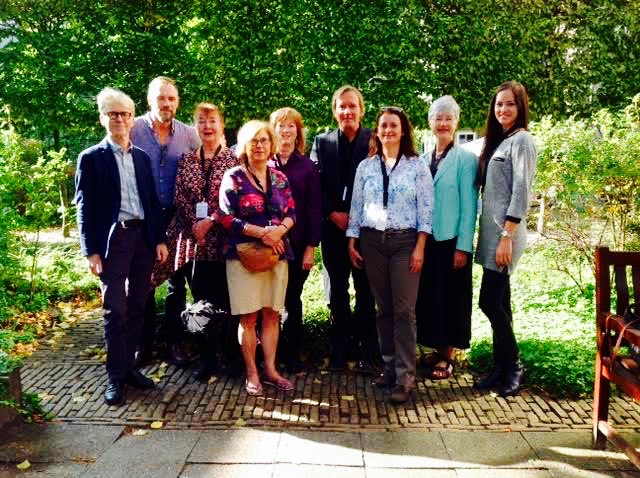 Researchers 
Marieke van Delft  is Curator of Early Printed Collections at the Koninklijke Bibliotheek, National Library of the Netherlands in The Hague. She studied history and book history at the universities of Amsterdam and Leiden and gained her doctorate in cultural studies at the KU Leuven, which was published in 2016 by the Walburg Pers, Van wiegendruk tot world wide web . Van Delft has published on many aspects of the history of the printed book in the Netherlands. In collaboration with Uitgeverij Lannoo she has edited three facsimile editions: Atlas De Wit (2012) and Nederlandsche vogelen (2014) and Metamorphosis insectorum Surinamensium of Maria Sibylla Merian.
Kay Etheridge is professor of Biology at Gettysburg College. Her current scholarship centers on the integration of natural history images and the history of biology with a focus on Maria Sibylla Merian. Her forthcoming book on the biology of Merian's caterpillar books will be published by Brill. Earlier publications in physiology and ecology include studies on tropical bats, manatees, lizards, and salamanders. In addition to biology courses she teaches a seminar on creativity in art and science and a course on Renaissance Kunstkammer.
Hans Mulder is curator of Artis Library of the University of Amsterdam. He studied history at Utrecht University. He co-hosted the 2014 symposium on life and work of Maria Sibylla Merian and currently participates in the newly founded UvA research group Natura Artis Magistra. He will teach on the 'Discovery of Nature' with Bert van de Roemer for the Institute of Interdisciplinary Studies (UvA). Mulder chaired the Dutch Book Historical Society and Blue Shield Netherlands (Red Cross for Cultural Heritage) and was Secretary General of The Association of National Committees of the Blue Shield.
Florence F. J. M. Pieters studied biology and philosophy of science at Radboud University Nijmegen (Netherlands). In 1969, after a period of college teaching, she was appointed as scientific librarian of the Artis Library, University of Amsterdam, where she later became conservator. From 1974 up to 2000 she also acted as managing editor of the scientific journal Contributions to Zoology. At the Artis Library, which has an outstanding collection of natural history works, she became fascinated with the work of M. S. Merian. Since her retirement she had continued her investigations into the history of early Dutch collections and collectors of natural history, working as guest researcher at the Artis Library in Amsterdam and at the Naturalis Biodiversity Center in Leiden. See her publication on Merian (co-authored by Diny Winthagen) at http://dare.uva.nl/record/1/327018.
Bert van de Roemer is assistant professor at the Department of Cultural Studies at the University of Amsterdam. For his research project into the theoretical backgrounds of Dutch collections of curiosities from the early modern period he obtained scholarships from the Institute of Culture and History in Amsterdam in the Max-Planck Institut für Wissenschaftgeschichte in Berlin. At the moment he is working on publications about the creative industries in Amsterdam in the early 18th century and about Dutch collections of curiosities.
Katharina Schmidt-Loske is the Head of a research center of historical biology – Biohistoricum – at the Zoological Research Museum Alexander Koenig, Bonn. She studied biology in Münster, Bonn and Frankfurt/M. and earned her doctorate from the University of Bonn with a dissertation project entitled Die Tierwelt der Maria Sibylla Merian (The Fauna of Maria Sibylla Merian). Together with Kurt Wettengl she is currently working on an interdisciplinary project on Maria Sibylla Merian and the strategies of visualization of natural scientific knowledge.
Rose Marie Tillisch has a masters degree in Theology and a PH.D. in Church History from the Faculty of Theology, University of Copenhagen, Denmark. Inspired by the Danish Merian collections Tillisch began to give lectures on Maria Sibylla Merian in 1980. In 1994 she organized an exhibition on Merian in Denmark in Helsingør (Kulturhus Toldkammeret) and in Århus (Kvindemuseet): Forvandling (Metamorphosis). Facsimile works from Rijksmuseum and Windsor Castle were also represented. Between 1995 and 2013 Tillisch organized several workshops and smaller exhibitions on Merian for teachers and pupils of public schools. The beautiful and exact descriptions of the metamorphosis of moths and butterflies in their natural environment are – in Merian's  own words – her dutiful answer to God's creation. The reformed, pietistic context in which Merian lived in the 17th an 18th century differs from secularization of the 21st. Her holistic, even ecologic insights serve as an eye-opener for what might be a missing link in our time between religion and science.
Kurt Wettengl is honorary professor for art history at the Department of Art and Science of Art at the TU Dortmund; since 1975 he is curator and author. After his Ph.D. in Art History about the German still-life-painter Georg Flegel (1566-1637) he worked as curator for the collections of paintings, prints, drawings; photography and sculptures from the Middle Ages to present at the Museum for Kunst und Kunstgeschichte, Dortmund, and at the Historisches Museum Frankfurt/M 1991-2004), where he was also deputy director for many years. He was then (2005-2015) director of the Museum Ostwall, Dortmund. Among the more than fifty exhibitions he curated are those about Georg Flegel (Historisches Museum and Schirn Kunsthalle Frankfurt/M, 1993), Maria Sibylla Merian (Historisches Museum Frankfurt/M, 1997/98 and Teylers Museum, Haarlem, 1998) and the permanent exhibition in the Senckenberg Museum in Frankfurt about Maria Sybilla Merian (1993). The catalogue to the Merian-exhibition in 1997/98 was published in a German, Dutch and English edition and reprinted in German in 2013.
Together with Dr. Katherina Schmidt-Loske he recently started a new research about MSM titled "Maria Sibylla Merian and the Strategies of Visualisation of Natural Scientific Knowledge" from the perspective of art history and biology. He is also working on creative industries in Frankfurt "around 1600", on expeditions by artists from the 17th century to today and on topics of contemporary art.
Diny Winthagen is presently guest researcher in the Artis Library, with focus on the history of botanical illustrations and plant explorers. She worked as librarian of the Hugo de Vries Laboratory near the old Botanical Garden in Amsterdam, with a precious collection of very rare botanical books and manuscripts. Later she became head of the Library of the Biological Centre of the University of Amsterdam. There she organized several exhibitions under the title "Beauty and Science", concerning esthetic aspects of the biological research of the institutes. Since a long time she is fascinated by Maria Sibylla Merian and as early as 1981 she translated a small book by Gerhard Nebel : Maria Sibylla Merian, die schönsten Tafeln aus dem grossen Buch der Schmetterlinge und Pflanzen Metamorphosis Insectorum Surinamensium (1964) into Dutch. She also co-authored an article (with Florence Pieters) in commemoration of the 300th anniversary of M.S.Merian's birth, published in Archives of Natural History in 1999.