NEW FACSIMILE OF MERIAN'S METAMORPHOSIS INSECTORUM SURINAMENSIUM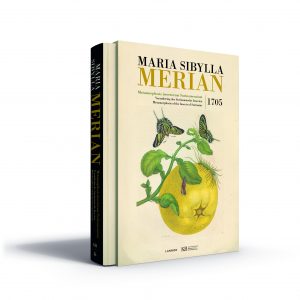 On 11 October 2016 a new facsimile was published of Merian's 1705 Suriname book by Lannoo Publishers and Koninklijke Bibliotheek in collaboration with the University of Amsterdam. The original book with its sixty illustrations and descriptions is reissued in full size. It is enriched with an illustrated introduction by Ella Reitsma, Bert van de Roemer, Kay Etheridge, Marieke van Delft and Hans Mulder about the life, work and significance of Maria Sibylla Merian. All the insects, animals and plants are again determined by a team of Naturalis Biodiversity Center. A complete list of known kept copies (67) of the work is also inserted. See for more information:
www.sibyllamerian.com
.